ITE IS STILL UNDER CONSTRUCTION...!

MITCH MITCHELL CHRONOLOGY
This document will probably never be complete. Apart from his tours with Hendrix, Jack Bruce and Ramatam,
Mitch must have played hundreds of concerts with bands like Riot Squad, Georgie Fame, Screaming Lord Sutch, and others.
Especially what came AFTER Jimi Hendrix, like the later Seventies and the Eighties remain a mystery.
To research all those dates is a close to impossible task. YOUR HELP IS NEEDED.
Please contact me, in case you can add any info. Thank You!
I have not included the shows Mitch played with Jimi Hendrix.
To research those dates, please visit the fantastic "JUST ASK THE AXIS" website :
http://www.digitalhighway.co.uk/axis/index.asp
1960
Mitch plays with Pete Nelson & The Travellers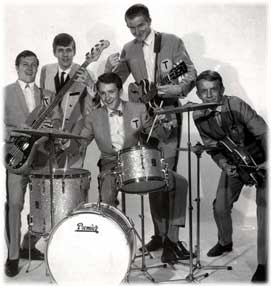 1963
In 1963 or 1964, Mitch plays with THE TORNADOS, a band assembled by Joe Meek.
from Joe Meek biography:
"With The Tornados having bit the dust, Joe tried to revive the name with new musicians. Mitch Mitchell, later to play with Jimi Hendrix, was drafted in on drums. Mitch played like his life depended on it, but it was too wild for the controlling Joe. Mitch didn't get the message as Joe stomped about demanding the individualistic drummer do exactly as he asked. Mitch continued as he had done before and Joe is said to have emerged from the control room with a shotgun and a promise: 'If you don't do it properly I'll blow your fucking head off'. "
NOTE: This incident has been refuted by Mitch himself.

1964
In early 1964, Mitch plays in a band called "The Coronets", who later turned into "The Lively Set".

TERRY NEW in his own words about THE CORONETS/ THE LIVELY SET:
"...the Coronets ... was formed to back a TV actor called Chris Sandford who was then appearing regularly in
a popular Soap Opera on UK TV - "Coronation Street". In the programme he was a singing window cleaner who
wanted to become a recording artist. He made a record called "Not Too Little Not Too Much" which was quite sucessful
at the time and got quite high in the UK Charts.He needed a group to back him for live gigs and so the Coronets were formed.
The group was David Glasspool (bass), Norman Hale (keyboards/vocals), Tony Cartwright (guitar/vocals),
Terry New (guitar/vocals) and Mitch Mitchell (drums). Mitch was a friend of Chris Sandford, they met at an acting college.
The Coronets never recorded under that name and when the Chris Sandford & The Coronets gigs ended we recorded as
The Lively Set with Chris Sandford as our recording manager.
Mitch left the group and joined Georgie Fames Blue Flames(sic) and we continued with a new drummer Eric Dillon.
After The Lively Set split Eric joined Noel Reddings Fat Mattress band."
Also in 1964, Mitch was among the drummers auditioning for the Who, as Pete Townshend recalls:
"We tried a few drummers including Mitch Mitchell who went on to play with Jimi Hendrix. But Keith Moon appeared one day at one of our regular dates at the Oldfield Hotel in Greenford and as soon as he began to play we knew we'd found the missing link."
In fall 1964 producer Larry Page assembles a group called the Riot Squad. The initial line-up of Riot Squad is
Graham Bonney (gtr/voc), Ron Ryan (gtr/voc), Mike Martin (bass), Mark Stevens (org), Bob Evans (sax) and Mitch Mitchell.

1965
Mitch plays on the Riot Squad´s first three singles:
"Anytime/Jump"(1/65)," I Wanna Talk About My Baby/Gonna Make You Mine"(3/65) and
"Nevertheless/Not A Great Talker"(5/65).

In January 1965, The Riot Squad appear on Granada TV´s "Scene At 6:30", as well as on "Ready , Steady, Go".
In April/May 1965, The Riot Squad are touring the UK on a package tour along with the Kinks,
the Yardbirds and Mickey Finn & The Blue Men.
In mid-1965, Mitch leaves The Riot Squad and joins Georgie Fame & the Blue Flames.
He stays with them until their break-up in September 1966.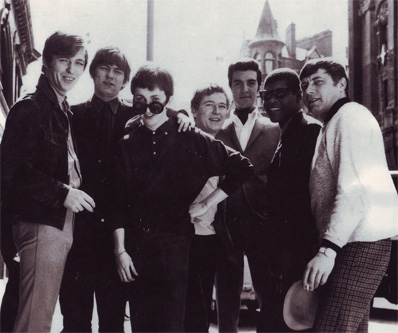 Georgie Fame & Blue Flames
In late 1965, Mitch plays about a dozen shows with the Pretty Things,
who are just in the process of parting with their original drummer Viv Prince...

JOHN STAX : "Actually, Mitch Mitchell played with us after Viv left. He came and sat in with us until we got a new drummer. We played a couple of dozen shows with him. He was really straight. He had a three-piece suit when he joined Jimi Hendrix and the next time I saw him I couldn't believe it – "Mitch, you're wild!"
1966
On October 1st, 1966, Georgie Fame makes his final appearance with the Blue Flames at the Grand Gala du Disque in Amsterdam.
On October 6th, Mitch Mitchell leaves Georgie Fame for Jimi Hendrix.
In the 3 years to follow, Mitch PLAYS HIS ASS OFF for the Jimi Hendrix Experience.
His tight schedule does not allow him much work apart from the Experience.

1967
| | |
| --- | --- |
| | |
| Hamburg, Germany, March 1967 | |
Later in 1967, Mitch reportedly plays drums on the Wishful Thinking single "Count To Ten". Whether this was recorded earlier, maybe in 1966, and just released in 1967 remains remains questionable.
While on the road with Jimi, Mitch meets Carlo Little (then with the Flowerpot Men). Carlo Little was a then famous London based drummer, who had been a role model for lots of local drummers. He actually got Charlie Watts the Stones gig, and gave Keith Moon lessons. He also seems to have been a mentor for Mitch.
Recalls Carlo:
"We met the legend Jimi Hendrix - in cafe The Blue Boar on the M1! All the bands would congregate there on their way back and forwards from gigs, it was just before The Experience hit the big time and they must have been touring to get themselves known. Well, Mitch Mitchell the drummer, who used to come and watch me in the early days, recognised me. He came over with Jimi and introduced me as 'the guy who started it all off for me'. "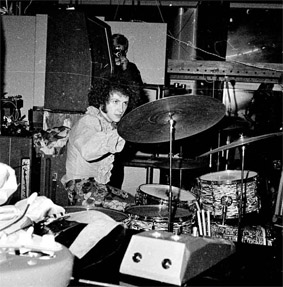 Stockholm, Sweden 1967
1968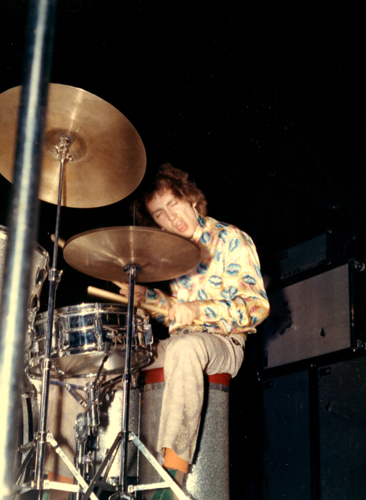 Toronto February 24th 1968.
In December, Mitch appears at the Rolling Stones "Rock`n`Roll Circus" with
John Lennon, Eric Clapton and Keith Richards (and occasionally Yoko Ono).
They call themselves THE DIRTY MAC...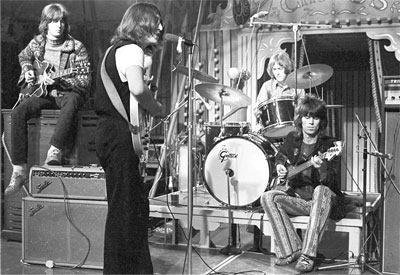 Click here to watch "Yer Blues"...
1969
The Experience starts the year with a European tour, taking them to Scandinavia, Germany,
Austria and France, before finishing with two performances at the Royal Albert Hall in London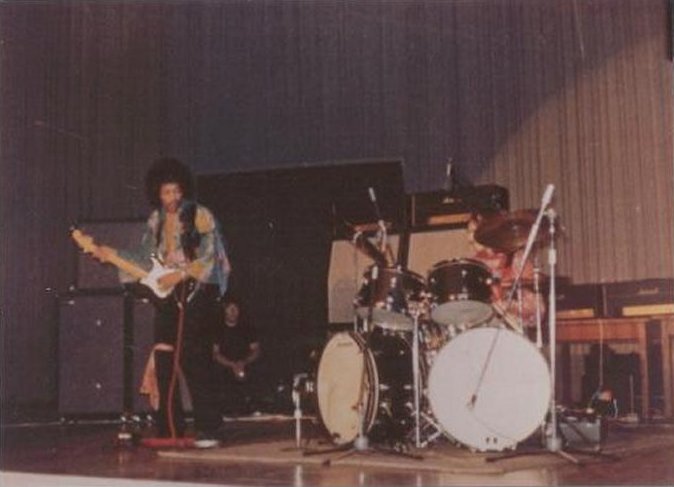 Jimi and Mitch in Dusseldorf, Germany, January 12th 1969
In April, the band embarks on a 3-month major US tour.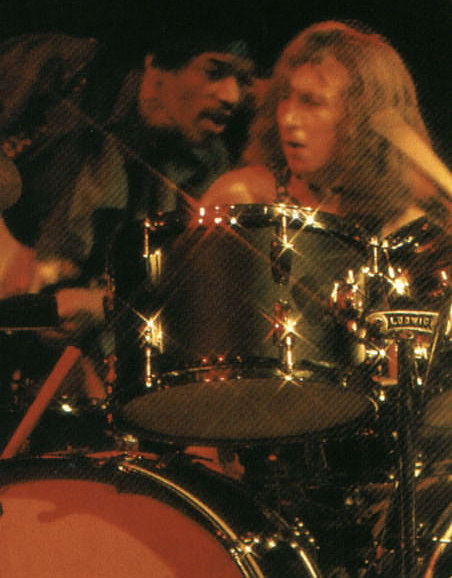 Jimi and Mitch touring US spring 1969

The original Experience play their last-ever show at Denver Pop Festival on June 22nd, 1969.


In summer 1969, Mitch is involved in the recording of the concept album "Music from the Free Creek".
He can be heard on the tracks "Freedom Jazzdance", On the Rebound" and "Hey Jude".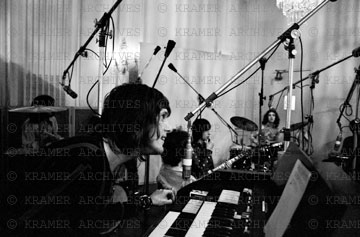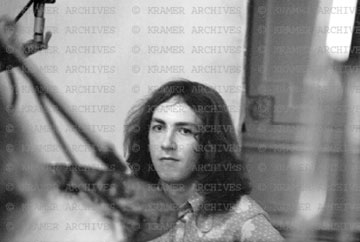 Keyboard player Moogy Klingman in a 2001 interview:
MOOGY - "There I was, around 19 years old at the time and I just kind of stumbled into working with all these superstars. And in many instances, I wasn't just working with them, I was running the show. Telling people like Jeff Beck and Eric Clapton what to do..... It was almost an "Emperor's New Clothes" situation. At any moment someone could yell out "who the fuck are you, sonny, to tell us what to do?", but that never happened. Well, it almost happened a few times, but I knew when to back off."
Q - And just what had you done in the music business back in '69 to merit your inclusion?
MOOGY - A lot of it was being in the right place at the right time. I had left high school and moved to Greenwich Village from Great Neck, Long Island, several years earlier. I was really an early starter in the music biz. I was jamming in the village with everyone there for several years already. I had even played in Jimi Hendrix's group "Jimi James and the Blue Flames" when I was 16 (...)
I C - What was the first session like?
MOOGY - I can still remember walking into the studio for the first session with Earl and seeing an array of great musicians. Mitch Mitchell from the "Jimi Hendrix Experience" was banging away at the drums. Keith Emerson of "Emerson, Lake and Palmer", was playing Hammond Organ, Chris Wood, the flutist from "Traffic", was blowing riffs in the corner and Buzzy Feiton, the new lead guitarist from the "Paul Butterfield Band" was burning some stinging solos as I sat down at the piano and kind of shrunk a little after hearing Keith and Buzzy and Mitch just really play some wild riffs.
But things were disorganized as no one was really in charge. I went into the control room and Earl said "Moogy, get things going out there. I'm depending on you." So, I went out and let them know that I was kind of running things for Earl. "Now, who has any ideas for recording?" I said. The first thing we recorded was "Freedom Jazz Dance", which was an amazing jazzy jam from these rockers. Mitch Mitchell reminded me of Elvin Jones on the drums. Keith Emerson sounded like Jimmy Smith to me, really soulfull. I was surprised. It was Buzzy Feiton's idea to do the song. I mostly comped at the piano. Chris Wood couldn't really find the groove, so we left him off of it.

Keith Emerson did "On The Rebound" a Floyd Kramer song with Buzzy Feiton and Mitch Mitchell. He did it kind of as a response to "Kilpatrick's Defeat", my country piano song. All through this album I pushed some of the British rock stars to places they didn't normally go. Keith Emerson doing jazz and country was something you didn't hear him often do with his own records or group. Keith also had a great arrangement of "Mother Nature's Son" which I insisted he record. He was a sweet guy. Humble and self-effacing. Mitch Mitchell was great and a little angry. He had just been put on suspension by Jimi Hendrix while Jimi was working with other musicians, putting the Experience on ice for a while. Only a year later Jimi was to leave us all for good(...) The last song we recorded was "Hey Jude" which was Buzzy's arrangement. Keith Emerson had left by that time, there so I took over the organ duties and Mitch Mitchell kicked it on the drums. Earl was happy. We had recorded five songs over two days and they all sounded good."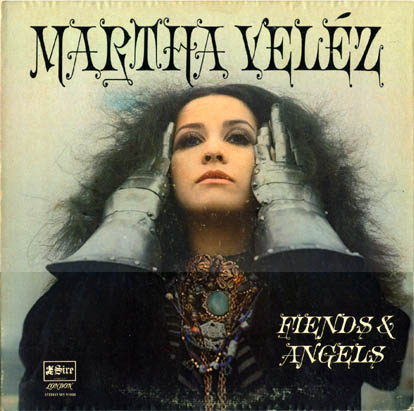 Also in 1969, Mitch is involved in the recording
of the album "Fiends and Angels" by Martha Velez,
featuring musicians such as Brian Auger, Jack Bruce,
Jim Capaldi, Eric Clapton, Paul Kossoff, Christine McVie,
Stan Webb and Chris Wood
1970
Jack Bruce & Friends with Larry Coryell, Mike Mandell and Mitch Mitchell
In beginning of January, while Jimi is working with Buddy Miles and Billy Cox, Mitch joins the new Jack Bruce & Friends. This will turn out to be the "forgotten supergroup" of early jazzrock. Sadly, no studio recordings have surfaced so far, but the existing bootleg recordings (from at least 3 shows) leave no doubt about how great this band sounded.
(Special thanks to Bob Elliot for sharing some of his memorabilia with us!)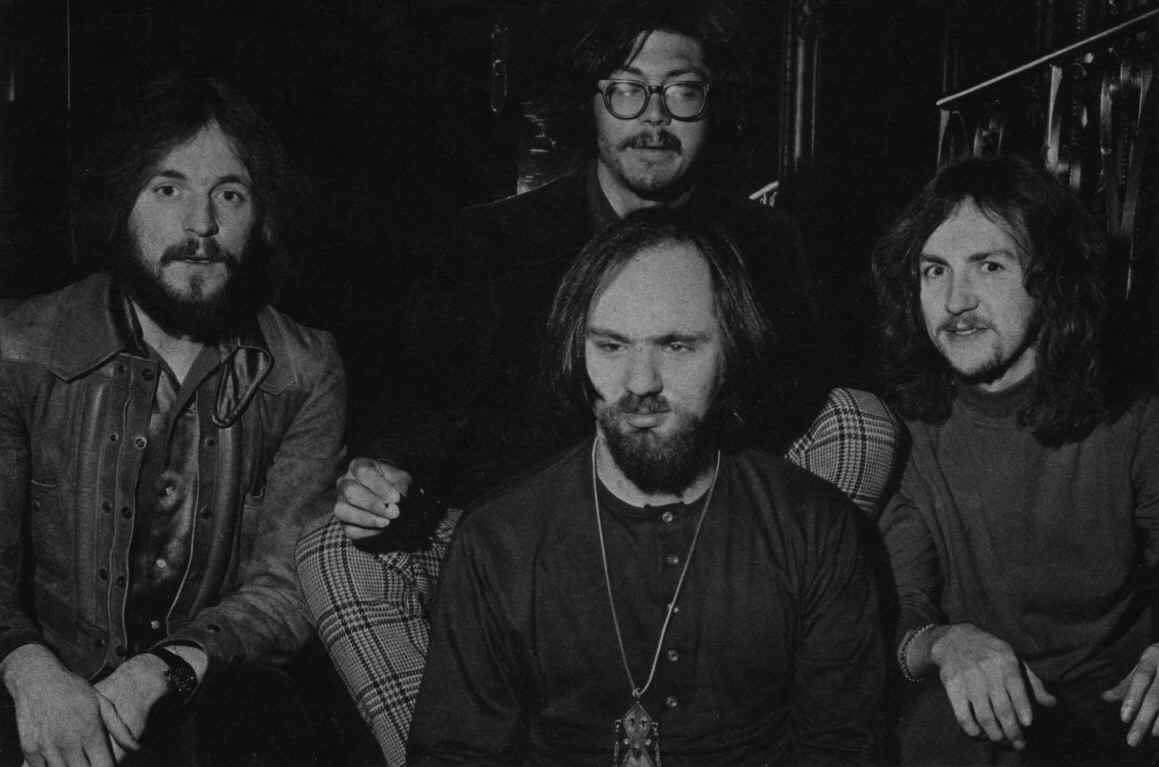 TOUR DATES:
- 01/24/70 - 'Lanchester Arts Festival' Coventry, England (2 shows) (with Colosseum and the New Jazz Orchestra)
- 01/25/70 - 'Lyceum' Strand, England
- 01/30/70 - 'Fillmore East' New York, New York (2 shows with Mountain)
- 01/31/70 - 'Fillmore East' New York, New York (2 shows with Mountain)
- 02/06/70 - 'The Warehouse' New Orleans, Louisiana (with Zephyr, White Clover)
- 02/07/70 - 'The Warehouse' New Orleans, Louisiana (with Zephyr, Darkhorse)
- 02/09/70 - 'The Warehouse' New Orleans, Louisiana (with Pacific, Gas & Electric)
- 02/13/70 - 'Eastown Theatre' Detroit, Michigan (with Savage Grace, The Tea, Steve Booker)
- 02/14/70 - 'Eastown Theatre' Detroit, Michigan (with Teegarden & Van Winkle, The Tea, Steve Booker)
- 02/20/70 - 'Kinetic Playground' Chicago, Illinois (with James Gang, Siegal-Schwall, Mason Proffit, Soft, Truth)
- 02/21/70 - 'Kinetic Playground' Chicago, Illinois (with James Gang, Siegal-Schwall, Mason Proffit, Soft, Truth)
- 02/22/70 - 'Electric Factory' Philadelphia, Pennsylvania (2 shows with Albert King, Edison Electric Band)
- 02/25/70 - 'Music Hall' Houston, Texas (with Mountain)
- 02/26/70 - 'Fillmore West' San Francisco, California
- 02/27/70 - 'Winterland' San Francisco, California
- 02/28/70 - 'Winterland' San Francisco, California
- 03/01/70 - 'Fillmore West' San Francisco, California
(opening acts for the Fillmore West and Winterland shows
included Johnny Winter, Mountain, Eric Mercury and Birthrite)
Here are some photos of the Jack Bruce & Friends rehearsals in London, January 1970....
Photos by Dezo Hoffman
Jack and Mitch enjoying a break......
At the end of April 1970, Mitch joins Jimi Hendrix and Billy Cox on the "Cry of Love" Tour,
which takes them all across the US, and also Europe.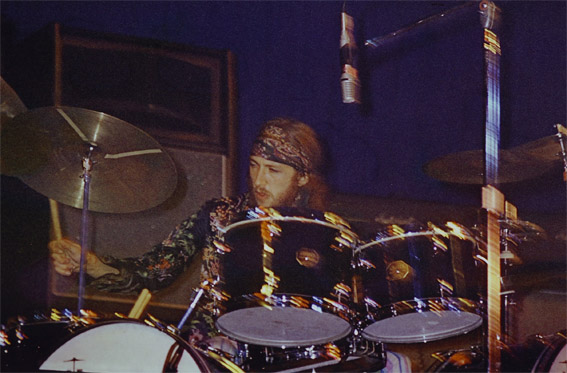 Mitch at Deutschlandhalle, Berlin, Germany, September 4th 1970

Between legs for the tour, the band is working hard to record their next album.
Their last public performance takes place at the Fehmarn Love & Peace Festival in Germany, September 6th 1970.
click here to watch silent Super8 footage of this event

1971
Larry Coryell Band with Jack Bruce, Mitch Mitchell

- 07/18/71 - 'Nice Festival' Nice, France (Radio broadcast)
In 1970 or 1971, Mitch produces sessions with the group Bloodrock at Electric Ladyland, with Eddie Kramer engineering. Here´s an excerpt of an interview with Mr. Hill from Bloodrock:

Q: The group opened for Jimi Hendrix a few times. Where were those dates?

Hill: Fort Worth and Norman, on the O.U. campus.
We also played the second Atlanta Pop Festival, which Hendrix headlined.

Q: Was Atlanta the largest audience you've played for?

Hill: Yes. The crowd was estimated at 350,000 during our set. Of course it's difficult to verify
audience numbers at festivals. The book "Jimi Hendrix---Musician" does mention that the
2nd Atlanta was his biggest live audience ever, meaning up to that date.

Q: Tell us about the sessions at Electric Lady Studios.

Hill: We were invited to record there by Mitch Mitchell. Bloodrock was playing at the Whiskey
and Mitch was in the audience. The following week, we found ourselves at Electric Lady,
with Mitch producing and Eddie Kramer engineering.

Q: And how did it feel to be working with those two?

Hill: It was a gas. Mitch was easy-going. I always say if any drummer had a reason to have a big ego,
it would be him, but he just like one of the guys. Eddie's reputation as an engineer and producer is well-deserved.
He was amazing. It helps to remember that up to that time, nearly all the recording we had done as Bloodrock
had been either at Capitol in L.A., or in Cleveland, so it was good to hear how we sounded at Electric Lady.

Q: Did Mitch play anything on the sessions?

Hill: No. According to him, we sounded good enough and we "didn't need [his] help."
We tried to trick him into at least jamming with us, but I think he wanted to stick with the producer role,
and not upstage the group.
In summer 1971, apart from working on the Cry of Love album with Eddie Kramer, Mitch forms the group
RAMATAM together with Mike Pinera and April Lawton. They start recording for their first album, which is released
in 1972.

In late 1971 or early 1972, Mitch plays shows in Europe with the Jeff Beck Group, substituting for Cozy Powell, who is sick.
In December, Mitch is interviewed by Sounds Magazine. Click here to read...
1972
RAMATAM album released.
The band tours all across the US, supporting ELP, Humble Pie and playing shows of their own.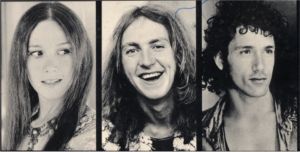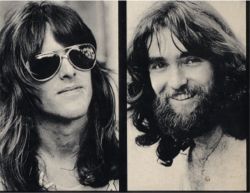 Recalls Bob O´Neal, Ramatam´s drum roadie:
" I can't pinpoint the exact dates. I don't have any photos but I can definitely remember some of the cities where we did shows and who was headlining on those shows(...) I was living in Memphis, Tennessee with my friend, Steve Dabbs. We were working for a concert promoter in Memphis named Bob Kelley. His company was Mid-South Concerts(...) Ramatam was the support act on a Humble Pie show at the North Hall of Ellis Auditorium. Ramatam's tour manager was Paco Zimmer. This show was one of the first after the band formed. The band was Mitch Mitchell on drums, April Lawton on guitar, Mike Panera on guitar and Carlos Garcia on bass. I can't recall who else may have been in the band.Anyway, Steve and I knew Paco from when he had been in Memphis the year before with Cactus. He offered us jobs as roadies for the band. We accepted the offer and left with the band going to the next show, which was playing in New Orleans at a venue called The Warehouse with Humble Pie. From there we continued doing shows all over the country for the rest of that summer.We played shows with Humble Pie, Edgar Winter and ZZ Top. I can remember playing Akron, Ohio at a stadium show at the Rubber Bowl with five acts on the show. We also played on a multi-day festival in the Pocono mountains in Pennsylvania. Between tour segments, the band and the crew lived in a large mansion in Huntington Harbor out on Long Island. It was a really big house with about six bedrooms. We didn't actually spend very much time there but that's where Mitch's wife, Lynn and young daughter lived(...) The band was on Atlantic Records and they were created to be a "super group" made up of stars from previously successful groups with the unique innovation of a "chick" lead guitarist. It was a flop. They didn't sell many records and the whole project dissolved rather quickly after the first few months of playing shows.
Steve and I together set up all of the band equipment. We both handled everything when loading and unloading but then he set up guitars and amps and I set up the drums and we attended to those players during the shows. I would have to say that my relationship with Mitch was a working relationship rather than a social relationship. Like everyone else in the early 70s, I had been a HUGE Jimi Hendrix Experience fan and could occasionally get Mitch to relate some stories of their touring days. I can't say that I recall any particular tales though."
1973
1976
Mitch plays in a band called "Hinkley's Heroes".
In late December of 1976, they open for Man at the band's farewell shows at the Roundhouse in London as described in the following excerpt from the February/March issue of Trouser Press magazine:

MIKE PATTO: "The support band at (the Man farewell) gigs was Hinkley's Heroes, an occasional aggregation featuring Tim Hinkley, Mike Patto, Poli Palmer, Mitch Mitchell, Henry McCulloch and Boz Burrell, who individually need no introduction. They have been playing together intermittently since the "Dick and the Firemen" bash at Crystal Palace last year. The sound was very loose, but varied and entertaining. The best songs were Freddie King's "Tore Down," which Tim sang in great style, "John Henry" done in shuffling Ry Cooder fashion with Henry McCulloch singing, and a bouncy rocker called "Travellin Light" sung by Boz."
------
1982
Mitch records an album at Hafenklang Studios, Hamburg, with the Dave Morrison Band.
They also tour Germany that year.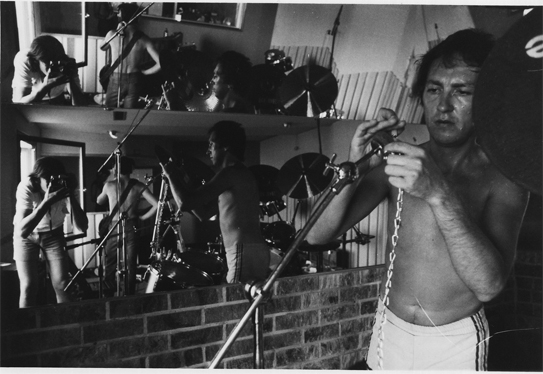 Mitch recording with Dave Morrison (photo by Kay Hintz)
1988
In 1988, a construction worker finds 64 boxes of forgotten master tapes while working at Olympic Studios. Chas Chandler gets his hand on these and re-records the drum and bass tracks, with Noel and Mitch. Some of these recordings find their way into traders´circuits as a bootleg called "Studio Haze".